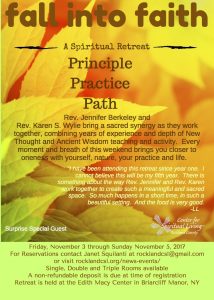 A Spiritual Retreat
Principle | Practice | Path
Rev. Jennifer Berkekey and Rev. Karen S. Wylie bring a sacred synergy as they work together, combining years of experience and depth of Thought and Ancient Wisdom teaching and activity. Every moment and breath of this weekend brings you closer to oneness with yourself, nature, your practice and life.
Friday, November 3 through Sunday November 5, 2017
For reservations, contact Janet Squilanti at or visit rocklandcsl.org/news-events/
Single, Double and Triple Rooms available.
A non-refundable deposit is due at time of registration.
Retreat is held at the Edith Macy Center in Briarcliff Manor, NY.
"I have been attending this retreat since year one. I cannot believe this will be my fifth year. There is something about the way Rev. Jennifer and Rev. Karen work together to create such a meaningful and sacred space. So much happens in a short time, in such a beautiful setting. And the food is very good. ~ LL"