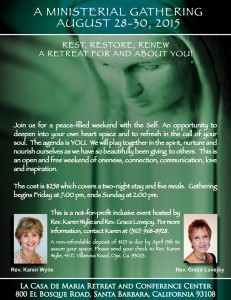 Rest, Retreat, Restore – A Retreat For and About You
August 28 – 30, 2015
Join us for a peace-filled weekend with the Self. An opportunity to deepen into your own heart space and to refresh in the call of your soul. The agenda is YOU. We will play together in the spirit, nurture and nourish ourselves as we have so beautifully been giving to others. This is an open and free weekend of oneness, connection communication, love and inspiration.
The cost is $258 which covers a two-night stay and five meals. Gathering begins Friday, August 28th at 7:00 pm, ends Sunday, August 30th at 2:00 pm.
La Casa de Maria Retreat and Conference Center
800 El Bosque Road
Santa Barbara, California 93108
This is a not-for-profit inclusive event hosted by Rev. Karen Wylie and Rev. Grace Lovejoy. For more information, contact Karen at (310) 968-8928.