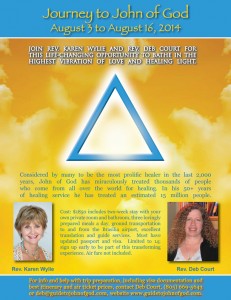 August 3 to August 16, 2014
Join Rev. Karen Wylie and Rev. Deb Court for this life-changing opportunity to bathe in the highest vibration of love and healing light.
Considered by many to be the most prolific healer in the last 2,000 years, John of God has miraculously treated thousands of people who come from all over the world for healing. In his 50+ years of healing service he has treated an estimated 15 million people.
Cost: $1850 includes two-week stay with your own private room and bathroom, three lovingly prepared meals a day, ground transportation to and from the Brasilia airport, excellent translation and guide services.
Must have updated passport and visa. Limited to 14; sign up early to be a part of this transforming experience. Air fare not included.
For info and help with trip preparation, including visa documentation and best itinerary and air ticket prices, contact Deb Court at (805) 669-5643 or .
Website: www.guidetojohnofgod.com